Merit-Making and Eco Karma: A Q&A With Anne Mocko
February 21, 2017 • By Anne Mocko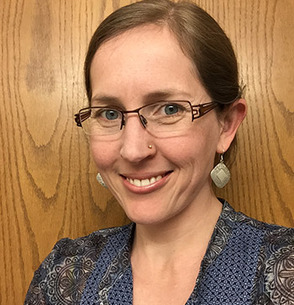 The purposeful renunciation of pleasure seems outlandishly counter-intuitive from a contemporary Western standpoint—flying in the face of messages we absorb from media outlets, which encourage us to enjoy, to consume, and not to think too hard about the consequences. Anne Mocko, Assistant Professor of Asian Religions at Concordia College, aims to bring those hidden consequences to light in her new book Eco Karma, which she discusses here in relation to her research on ascetic traditions for The Enhancing Life Project.
Tell us a little bit about your research for The Enhancing Life Project--what, recently, have you been working on?
My proposed research project is about merit-making in Buddhism and in Jainism, as a way of trying to help people feel good about practicing restraint in their daily lives. Merit is positive karma, and every time you do an act of restraint, you're understood to be getting positive karma. Even if you're giving something up--say, eating meat--you're getting something positive back. So, the proposal was to think about this attitude as a resource for trying to cut consumption and trying to live better in the world.
As my research unfolded last summer, though, I realized that, while I'm still going to write that project, the thing that I want to write first is, instead of an academic book about merit-making, a popular audience book specifically about Jainism, Jain daily practices, and how Jain daily practices can be a resource for rethinking environmentalism. So, recently I've been working on that. That book is called Eco Karma, and I'm drafting it right now.
What is the public relevance of publishing your book Eco Karma at this particular time?
We're in a moment of environmental crisis, so in general there's a need for rethinking Western lifestyles. I think that looking closely at the great ascetic traditions of Asia can help give us some ideas about how to convince people to feel like a more restrained pattern of consumerism is not just moral, but also spiritually fulfilling. But I also think, at this very particular moment, we are seeing a lot of resistance on the part of government actors to make moves toward restraining fossil fuel consumption. That means that better environmental responsibility has to be happening at a more grassroots level, so making people feel good about changing their lifestyles strikes me as especially important in a moment of government unwillingness to support environmental policies.
How do you make people feel good about changing their lifestyles?
I'm not sure that the book is going to make people feel super good—the project about merit-making, though, is definitely about making people feel good. But Eco Karma has turned out to be more about ways that Jain daily practices constantly draw people's attention to their impact on the world around them. So it's kind of a cultural critique, designed to look at the ways that American lifestyles purposefully hide from us our impact on the world, and to ask how we can build daily habits that are more attentive to the nonhuman and natural world and the impacts that we're always already having on those worlds. When people know they're having negative impact, they often care, and they really want to do something about it. But people don't change their lifestyles, because their lifestyles are designed to hide those impacts, and so people who are well-intentioned are unintentionally doing all of this harm in the world. If we can build more attentive lives, I think that will lead to more natural environmental engagement.
Have you been teaching an Enhancing Life Studies course recently?
I'm teaching one this semester; we're about a month in. It's an undergraduate-level seminar on asceticism.
What are you having the students do throughout the course, and what are some of the topics that you'll be covering?
We're doing some joint reading cross-culturally about different kinds of practices, and we're testing out the basic definition that asceticism is "the purposeful renunciation of bodily comfort or pleasure for spiritual gain." So we're looking at different ways that you can give up your pleasure or your comfort, different gains that people feel that they obtain from that, different ways that spiritual gains may be different from other kinds of benefits that you might get from renunciation practices, like dieting, for example—you can fast in order to increase your spirituality, or you can eat less food because you want to fit in a bikini. We're trying to parse those different kinds of benefits. Each of the students is also working on a research project of their own, and I steered them towards Jainism and Buddhism because that's thematic to my work, but I also opened it up to Christian ascetic practices, as well, since I'm teaching at a Lutheran college.
With your focus on asceticism, and renunciation of pleasure, was there anything in particular about the course that was difficult, or surprising, for the students?
They really struggle with the basic premise of asceticism, I think. All ascetic traditions assume that life in this world is problematic, and is an impediment to their spiritual life, and all the students in the class are accustomed to thinking of things like having family relationships, and having a dog, and having nice clothes—that all of those things are good. Every time we find an example of somebody being really proud of themselves for renouncing their relationship with their parents, for example, the students are like, what is happening? They're grappling really seriously with it, and they've been having some good discussions.
Is this your first time teaching this course?
It's the second time. I designed two different Enhancing Life Studies courses, that had two different syllabi, but my department needed last year's course again, and so I'm re-teaching this. But I retooled it from a once per week seminar to a twice per week seminar, and changed it a fair amount. The core interest in asceticism, and the central project of having the students both reading together and researching on their own is the same, though.
What particular elements of the course did you change?
There are two big things that I changed. The first is that I put more structure into their research processes. I broke it down into more pieces with more deadlines, because it's a lower-level seminar—so they're sophomores and juniors—and last year it seemed like they didn't have the discipline to be able to take on a long project very effectively on their own. So there's more scaffolding. The second thing I changed is—last year I had set aside time at the second part of the semester for each of the students to present their own research to the class. This year, I decided to spend that time doing more writing workshops, so that they would be acquainted with each other's work, and so I provided more readings throughout the semester, so that we would have more comparative material coming in.
What are some of the main insights that you hope that students take away from this course?
I think that it's important for me that students really rethink some of their basic attitudes about living in the world, and in particular rethink the idea that more is always better, and that bodily comfort is always a high priority—to think that there can be value in purposefully denying yourself, and challenging yourself to be mindful about what you do with your body, and how you do it.