Public Theology in a Taiwanese Context: A Q&A With Stephen Lakkis
July 20, 2017 • By Stephen Lakkis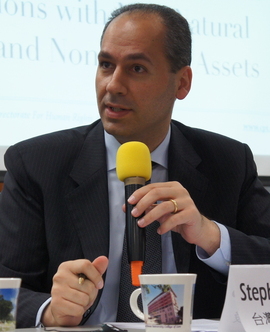 What is the topic of your Enhancing Life Project research?
My Enhancing Life Project is about nation building in Taiwan. That sounds a bit abstract, so in simple terms I'm just trying to use a Christian theological perspective to look at what it means to be human. In the church's western traditions, a lot of our talk about human life has been very individualistic – we have tried to understand ourselves as isolated individuals. That's very odd, since in the biblical world people's self-understandings were much more social and communal. And in modern Taiwan we often take the same approach, looking at life together, either as family groups, as tribal groups (among our aboriginal peoples), and as larger communities. There's a saying that western culture is more individualistic while eastern culture is more communal – while it's not really that simple, there is an element of truth in it that here we at least pay more attention to life together. So to look at this issue from a theological perspective I go back to an idea that was incredibly important in the teachings of Jesus: the kingdom of God. In Jesus's teachings we get the idea that fulfilled human life takes place in fulfilled communities, communities where there is attention to justice and peace and healthy relationships between people. To enhance life is not just to enhance my life, it's to find ways to enhance the life of the individual within community and within the nation. No individual exists without community, and no community can exist without individuals. So we need to treat them both together.
Has there been anything recently in the news that's struck you as relevant to your topic?
The second part of my project takes the theological resources that we have and tries to apply them to very current topics in the Taiwanese context. In planning out my project I chose four concrete topics as testing points for the theology. After all, we don't just want to talk about enhancing life, we want to actually do it! Those four issues are corruption, the environmental crisis, human rights, and stem cell or genetic research. Each of those four topics has been a major area of concern in Taiwan, both socially and legislatively, and has been cause for a lot of social discussion and debate. Each topic touches on our individual lives but also our lives together in community, so they are really appropriate areas for my project to look at.
Have you had any opportunities to share your research in public? Do you think this research might inform public discussion or policy?
One of the great experiences I have had with my project is the very high level of interest that people have taken in it. I have been invited to speak to so many different groups and organizations about these issues, ranging from ordinary churchgoers to politicians. To take the stem cell research topic as an example, I have been invited to speak on this topic not only to church groups and seminary students, but also to medical students and law students — people who are going to have to deal with this as part of their daily work. This broad reach really helps me to educate decision makers, the general public, as well as professionals who work in those fields. It's been the same with the other topics too, talking to legal and business leaders about ethics and corruption, or discussing environmental issues and renewable energy plans with local politicians. I really believe that it's vital for us academics to be connected to those who shape public policy and society's development. After all, why would we devote our lives to this research if we weren't interested in using it to make concrete changes?
What does it look like to do public theology in a Taiwanese context? What makes Taiwan an interesting location for thinking about theological anthropology?
It's always interesting to take theological resources and apply them in new and unique contexts. It challenges us as theologians to really get to the core of our faith and our ideas, and then to find ways to transpose them into a new context. Honestly the problems themselves are fairly universal, but it's the application that's the real challenge.
But one of the great things about doing public theology in Taiwan is the level of interest I find everywhere. The Taiwanese really love their country and are working so incredibly hard to help it advance and grow. Over the last 10 years we have seen so many marvelous developments in infrastructure and social life that have really placed Taiwan on the leading edge of Asian countries. I think part of this bold energy comes from a reaction by the Taiwanese against the majority of world nations who refuse to recognize Taiwan as a state. That handicap seems to make the Taiwanese all the more eager to succeed. And so to do that, they are incredibly open to all good ideas. In many western countries people don't feel like theologians have much to offer society. But in Taiwan's history, the church has been a major driver of social development, the churches are socially engaged, and many of society's leaders are Christians. That gives us a great open door to offer an extra perspective in the social debate and to collaborate with others who are working hard to keep Taiwan moving in the right direction.
What was your Enhancing Life Studies course about, and what did you have the students do?
I had planned to teach two courses, one on Theological Anthropology and one on Public Theology. But the Public Theology course went so well that I offered an extra course in that area. So I've taught three courses related to my project. In the Public Theology courses we spent time first focusing on methodology. That's so important, because students need to understand how to do public theology in the first place. After that we looked at different social issues each week, applying our methods and our theological resources to the topic. We also spoke about some practical issues such as social mobilization or practical ways to encourage change. In each course, the students were required to identify a social issue that was important to them, research it in detail, and identify theological resources that could be helpful in addressing that topic. They then prepared comprehensive research reports and guidelines on their issue. Many students also shared their reports with their local churches or with the NGOs where they were working. It was a good experience for the students to do something so practical and topical, and I was so impressed with their energy and creativity! It was great to see students realize that their faith, and the resources of their faith, were not just something to be held privately in their hearts, but could be used to really make a positive change to their own communities. A number of those students keep in touch with me still, and it's great to see how those experiences influenced their working lives. They work now all across Taiwan on issues as diverse as poverty and homelessness, environmental protection, disability policies, and even labor laws and foreign workers' rights. I'm incredibly proud of the great changes they are making!